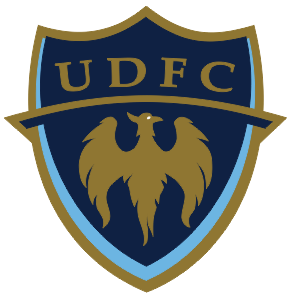 UDFC is migrating to a new registration platform and an updated website.
Please use this link to access info for the Spring Season.
Additional program information will continue to be available on this original site until we complete the switch-over.
UDFC INTRAMURAL PROGRAM 9v9 Small-sided Game Rules and Guidelines
4th Grade thru Middle School Divisions
​
Team Size: 9 v 9 w goalies. Goalies must wear an identifying pinnie.

Game Time: 2 x 20 min. 5 minute half-time. Games should start by 10 minutes after the hour

Ball Size: 4

Referee: Provided

Substitution: Unlimited. Coaches may only call for substitution upon their own throw in or goal kick. Piggy back substitutions are permitted. Each player should play at least half the game.

Throw- ins: Players will be afforded two opportunities. Turnover of possession if 2nd is not correct.

Goal Kicks: From the goalie box. Opposing team outside penalty area and ball must clear penalty area on kick.

Corner Kicks: Taken from corner nearest where ball left play. Opposing team 8 yards from ball.

Headers: Heading is allowed in the Middle School Division. There is no heading the ball in a stand-alone 5th Grade Division. Indirect free kick to restart. Headers inside the goalie box results in an indirect free kick taken from the edge of the goalie box, parallel to the goal line, closest to the foul.

Off Side: Will be called. Free kick to defending team with opposing team 8 yards from the ball. An off-sides foul is defined as player in active play, whose position on the field, at the time the ball is last touched by a teammate, is closer to the opposing goal than the last two defending players (ex. Goalie and 1 other field player). Off-sides can only be called in the attacking half of the field.

Fouls: Fouls are to be used as "teaching moments". Our referees will explain the foul and why it is a foul. Play will restart with a free kick. Repeated fouling and disruptive behavior can be grounds for removal.

Slide Tackling: Strictly prohibited. Coaches are to so advise players and parents before each game. If a player slide tackles (referee determination), he/she sits for the remainder of the half. If it is done again, the player is removed from the game.

Conduct: All players, coaches and supporters are bound by the UDFC Code of Conduct. Our referees are youth members of our Club performing a service. Coaches and players should not argue calls or talk back to the officials. Coaches should foster an atmosphere of sportsmanship and instill same in their supporters. If there are issues with any of our youth officials please bring them to the attention of the VP of Intramurals or the referee coordinator, Harry Kane.

Sportsmanship: In keeping with UDFC's mission, Coaches should refrain from" running up the score" on an opponent. If a game becomes lopsided, coaches are to remove an offensive player to keep the game from getting out of hand. Handshakes are to be conducted at the end of the game.