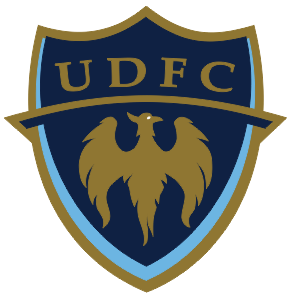 UDFC is migrating to a new registration platform and an updated website.
Please use this link to access info for the Spring Season.
Additional program information will continue to be available on this original site until we complete the switch-over.
UDFC COACH'S CODE OF CONDUCT
As a head coach, assistant coach or manager ("coach") participating in a UDFC program, I agree to abide by the following code of conduct:
​
A coach is the representatives of UDFC at the team level. A coach is expected to conduct themselves at all UDFC associated events in ways that will reflect positively on the club and abide by all UDFC policies and procedures.

Soccer is the players' game. The paramount concern of coaches is the enjoyment, welfare, safety and the physical and mental development of their players.

A coach will pursue the necessary education to provide soccer instruction at a level appropriate for the players being coached. Instruction should allow for each player to have the opportunity for individual growth and development.

A coach is responsible for teaching their players to strive for success while playing fairly, and observing the Laws of the Game and the rules and policies of the league they are participating in.

A coach shall treat referees with respect and dignity and shall teach their players to do the same. Deference will be given to the referee's decisions regarding game management. Issues or concerns involving referee conduct should be brought to the attention of the program coordinator.

A coach will show respect for opposing teams and their coaches and expect players to do so as well.

In both victory and defeat, the behavior of a coach shall model good sportsmanship.

A coach shall model inclusive behavior, actively supporting the diversity of the club, while opposing all types of discrimination, including, but not limited to, racism and sexism.

A coach shall refrain from all manner of abuse and harassment, whether verbal, physical, emotional or sexual, and shall oppose such abuse and harassment from others.

Coaches will take steps necessary to ensure proper team operation, including communication, organization, leadership and advocacy in team affairs. Assistance from team parents should be enlisted as need.
Failure to follow this Code of Conduct may result in disciplinary action by the UDFC Board of Directors or its appointed Discipline Committee, including being barred from attending UDFC programs and/or expulsion from UDFC.