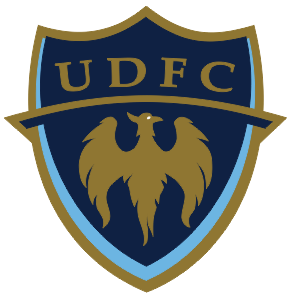 UDFC is migrating to a new registration platform and an updated website.
Please use this link to access info for the Spring Season.
Additional program information will continue to be available on this original site until we complete the switch-over.
UDFC PLAYER'S CODE OF CONDUCT
As a player participating in a UDFC program, I agree to abide by the following code of conduct:
​
I will play soccer to have fun, and will let my parents/guardians and coaches know if it stops being fun.

I will conduct myself appropriately at practices and games, as my actions reflect on my team, club, and community.

I will obey the Laws of Soccer and abide by the rules and policies of the league I am participating in.

I will demonstrate fair play and good sportsmanship at practices and games. I will expect and encourage fair play and good sportsmanship from other players, and adults.

I will treat other players, coaches, officials, and fans with respect, regardless of race, sex or ability. I will expect to be treated accordingly.

I will make my team a priority and make every attempt to attend practices and games and I will notify my coach, in advance, if I cannot.

I will come to practices and games on time, prepared to participate, and follow the instruction of coaches and officials so as not to be disruptive.

I will be responsible for bringing the necessary equipment for practices (ball, cleats, shin guards, water) and games (cleats, shin guards, water and team uniform).

If a travel player, I accept the authority of the team coach to make player assignments and accept that I may not receive an equal amount of playing time.
Failure to follow this Code of Conduct may result in disciplinary action by the UDFC Board of Directors, or it's appointed Discipline Committee, including loss of playing time, suspension, and/or expulsion from UDFC.