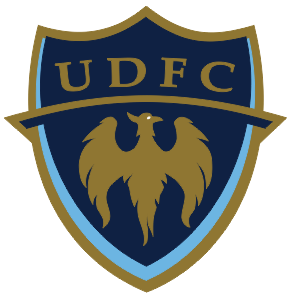 UDFC is migrating to a new registration platform and an updated website.
Please use this link to access info for the Spring Season.
Additional program information will continue to be available on this original site until we complete the switch-over.
Concussion Education, Training, and Management Policy
The UDFC Board of Directors adopts this policy and protocol to ensure the safety of the children playing soccer during UDFC sponsored programs. A Concussion Coordinator appointed by the UDFC Board of Directors is to provide leadership and oversight of this policy.
CONCUSSION EDUCATION, TRAINING AND MANAGEMENT POLICY
UDFC will provide appropriate educational materials to its coaches, players and parents regarding concussion awareness, prevention and recognition. These materials will be made available through the club website and by other means deemed appropriate by the Concussion Coordinator.
The Coordinator is responsible for ensuring coaches and referees are properly trained in concussion awareness, incident policy and protocols. Travel coaches are to be instructed on proper concussion baseline testing of players. A record of this training is to be maintained and certification of compliance is to be provided to organizations requiring it as condition of participation and/or membership by UDFC.
Travel team coaches will conduct basic baseline testing of their players annually, prior to the start of the fall season, using a baseline protocol approved by the Concussion Coordinator