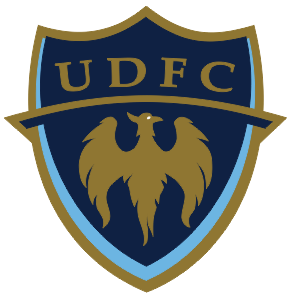 UDFC is migrating to a new registration platform and an updated website.
Please use this link to access info for the Spring Season.
Additional program information will continue to be available on this original site until we complete the switch-over.
Concussion Incident Policy and Protocol
​
CONCUSSION INCIDENT POLICY
Definition - A concussion is a traumatic brain injury that interferes with normal brain function. Medically, a concussion is a complex, pathophysiological event to the brain that is induced by trauma which may or may not involve a loss of consciousness. Concussion results in a constellation of physical, cognitive, emotional, and sleep-related symptoms. Signs or symptoms may last from several minutes to days, weeks, months or even longer in some cases.

Any player exhibiting the signs or symptoms of a concussion or traumatic brain injury while participating in a UDFC-sanctioned activity (training, games, tournaments, scrimmages) shall immediately be removed by the coach from the activity for evaluation.

A player shall not be allowed to participate in a club activity if they have a possible concussion or have been diagnosed with a concussion received from a non-UDFC activity.

A player with a possible concussion may not return to UDFC-sponsored soccer activities until evaluated and cleared for return by a health care provider trained in the evaluation and diagnosis of concussions.

A player diagnosed with a concussion may not return to UDFC-sponsored soccer activities without written clearance by a health care provider specializing in concussion treatment and management.

A coach found in violation of this policy shall be subject to the following minimum penalties:

For a first violation, suspension from coaching for the remainder of the season.

For a second violation, suspension from all soccer activity for the remainder of the season and for the next season.

For a third violation, permanent suspension from all soccer activity.
​
PROTOCOL FOR A POSSIBLE CONCUSSION AT UDFC TRAININGS AND COMPETITIONS
Step 1: Is emergency treatment needed?
Emergency treatment (i.e., call 911) is required in any of the following scenarios:
Spine or neck injury or pain

Behavior patterns change, unable to recognize people/places, less responsive than usual

Loss of consciousness

Seizures

Very drowsy / can't be awakened

Repeated vomiting

Increasing confusion or irritability

Weakness or numbness in arms and legs
Step 2: Did a possible concussion occur?
Remove the player from the activity and conduct a side-line assessment.
Note if any of the following signs and/or symptoms are present:
Dazed look or confusion about what happened; inability to mentally focus

Difficulty with memory and/or answering questions

Neck pain, headaches, nausea, vomiting, changes in vision or sensitivity to noises.

Slow reaction time, slurred speech, fatigue, or other abnormal physical behavior.

Coordination skills are below baseline tests for example, balance, reaction time, memory.
Step 3: If a possible concussion occurred, but no emergency medical treatment is needed, what should be done now?
Continue monitoring the player for the next 30 minutes. Even if there are no further signs or symptoms of concussion, the player shall not return to UDFC activities.

Notify the player's parent/guardian. Advise the parent/guardian to seek prompt medical evaluation.

The player should be monitored for signs of concussion symptoms regularly for the next 1-2 hours and should not partake in any physical activities for at least 24 hours.

The player will not be permitted to leave without a parent/guardian or another adult after the parent/guardian has been notified.

Notify the Concussion Coordinator via phone or email within 2 hours of the end of the game/training.
Step 4: Documentation
The Concussion Notification Form is to be completed and signed in duplicate by a team official.

If the player is able to do so, have the player sign and date the Form. Otherwise, note "unavailable" on the player's signature line.

Have a parent/guardian of the player, if present, sign and date the Form and keep one of the copies. If the parent/guardian is not present, the team official is responsible for notifying the parent/guardian by phone or email and providing a copy of the Form by email or mail within 24 hours.

A copy of the signed Form must be submitted to the UDFC Concussion Coordinator within 48 hours with a notation how the parent/guardian was notified if the Form is not signed by the parent/guardian.
Step 5: Conditions for return to play
A player with a possible concussion may return to play only after being cleared for activity by a health care professional trained in concussion diagnosis.

A player diagnosed with a concussion may return to play only after providing written clearance from a health care professional specializing in concussion treatment and management.