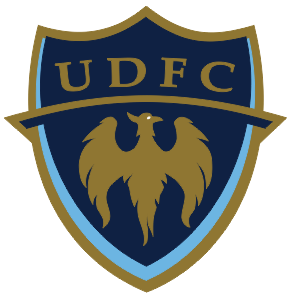 UDFC is migrating to a new registration platform and an updated website.
Please use this link to access info for the Spring Season.
Additional program information will continue to be available on this original site until we complete the switch-over.
Registration Begins: TBD
Age Groups: 1 - 4th Grade
(2021-22 School year grade)
2 sessions: July and/or August
2021 Fees: TBD
​
Weekly pre-season training for players wanting structured training opportunities through the summer.

Days and Times TBD

Sessions led by professional youth soccer trainers.
Soccer Summer Camps run by UDFC's professional training partners.

Half-Day, Full-Day, and Residential Camp options available.

Registration dates vary by program.

Links provided to full program information and registration instructions.
Registration - not required
Ages - All Current UDFC players
Dates - Various - June thru August
Fees - FREE
​
Weekly, informal pick-up soccer.

Open to players who have registered for a UDFC season in the last year.

No long-term commitment required. Players may attend week-to-week.

Games organized and refereed by UDFC coaches.
Registration open year-round
Ages - Co-ed 18+
Season - Year round
Fees - Free
Pick-up soccer and futsal games

Drop-in play. No long-term comitment required.

All soccer abilities are welcome

Limited to parents / guardians, family, friends of UDFC youth players & UDFC alumni.

Register for regular date, time and location updates.
Scroll Down
to see more
Programs