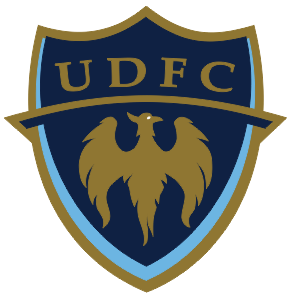 UDFC is migrating to a new registration platform and an updated website.
Please use this link to access info for the Spring Season.
Additional program information will continue to be available on this original site until we complete the switch-over.
TRAVEL TEAMS
UDFC's Travel Soccer Teams are for passionate players seeking a more competitive level than is found in the UDFC Fall League.
​
UDFC Travel Teams play the Fall season against teams from other soccer clubs in the region. Additional opportunities exist for teams to continue together for winter, spring and tournament play.
​
Boys & Girls are eligible for travel teams starting at age 8 (teams are divided by gender and birth year). All teams are coached by parent volunteers.​
​​
SPRING TRYOUTS
All players (new and returning) must attend player evaluations each Spring.

Assignment to a team is not guaranteed. Players are selected based on the evaluations conducted by the Travel Program Committee and Coaches.

Team placement is determined by the end of May.
​
SUMMER PRACTICE SCHEDULE
Players are expected to commit to attending practices and games for the entire travel season. Team practices start in June/July and are typically once or twice a week through the end of the fall season.

Team practice schedules are determined by individual team coaches.

Schedule conflicts (vacations, summer camp, etc.) must be addressed with the team coach.
​
FALL SCHEDULE​
The fall season runs September (weekend after Labor Day) through mid-November.

The final fall game schedule does not get released until mid-August.

Boys games are usually scheduled for Saturdays. Girls on Sundays.

Home games are played on Upper Darby School District fields.

Away games are played in neighboring communities. Older age groups may play at fields up to an hour away.

Teams play in the - DELCO (Boys), or Central (Both) Leagues depending on the individual team.
​
UNIFORMS
New players must purchase a travel uniform (approx $70) as a condition of participation.

Returning players are required to purchase uniform parts as necessary to maintain an acceptable travel uniform kit.
​
Important Program Dates - 2020
​
Tryout Registration Opens-
Tryouts - Not held this year
Team Assignments by- At the team's discretion
Fall Season Registration- By August 20th
Fall Season- September - November
​
2020 PROGRAM FEE - $100
2020 UNIFORM COST - Approx. $70 for a full uniform kit
Due to the COVID-19 shutdowns, Travel team tryouts will not be held for the 2020/21 season. Interested players/families should contact the appropriate (refer to player birthyear information below) team's coach using the email links to learn more about the team.
2020/21 CURRENT TEAMS