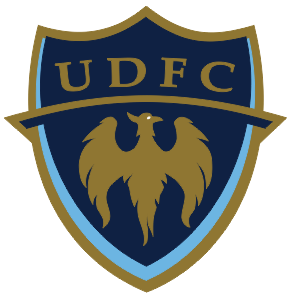 UDFC is migrating to a new registration platform and an updated website.
Please use this link to access info for the Spring Season.
Additional program information will continue to be available on this original site until we complete the switch-over.
Winter Futsal League
​
The UDFC Futsal League is the club's indoor soccer season. The focus of the program is to allow for continued player development through an additional season of weekly soccer games and training sessions in a fun, low-pressure environment.
Co-ed divisions for players in 1st through 6th Grade.

7-week season running Sat mornings from Dec 7 - Jan 25 (no soccer on Dec 14).

Games are played at the Swarthmore College Lamb-Miller Fieldhouse in Swarthmore, PA.

All players must complete a liability waiver (available below) to participate.

Due to limited availability in the Fieldhouse schedule, make-up sessions are not available for a game cancelled due to severe winter weather.

The 1-hour sessions include a 20-minute training with the coaches from the Swarthmore College Men's Soccer Coaching Staff and a 30-minute game.

The Game format for all age groups is based on US Soccer's Futsal Program. Futsal is played 5 against 5 (including goalies) on gym flooring with side and end lines.

Teams are determined by the Intramural Program Committee with the intention to form teams that are balanced and equally competitive.

Teams are coached by parent volunteers. Please indicate your willingness to coach by registering as a coach when you register your child.

There are no additional team practices.

All players are provided with a team shirt.

Players must provide their own shin guards and sneakers or indoor soccer shoes (NO CLEATS OR SPIKES).

No standings are kept, and there are no playoffs.
​
Important Program Dates - 2019/20
​
Open Registration - Nov 1 - Nov 22

(Registration is limited - Divisions will be waitlisted or closed when full)

Late Registration begins - Nov 23

Season Begins - Dec 7

No Soccer Dec 14

Season Ends - Jan 25
​
PROGRAM FEE - $75